Babymoon bliss in Noosa
It wasn't exactly the "quiet canals of Amsterdam" ....and romance may have played second fiddle to crowd control and beach patrol, but I wouldn't change a thing about our recent Babymoon to Noosa.

We felt a last minute trip up the coast before Baby Rodan's arrival would be a great way to start 2016, unwind and spend some quality time with our three boys ...after all their little wolfpack was about to be rocked by a screaming newborn!
Finding the perfect time to travel with a bump-on-board proved to be quite the challenge.
First trimester fatigue knocked me for six. I would finish the kinder/school run and collapse on the couch, only to have Tomasi jump all over me for the next 30 minutes. And don't get me started on the 'viral infection' my body couldn't shake for 3 long months - I singlehandedly increased Kleenex sales in Melbourne by 15% this past winter.

Just like a textbook pregnancy, week 13 brought about renewed energy levels and an improved outlook. The weather was warming up, my bump was starting to resemble a growing lifeform (rather than a Crust pizza) and our social calendars were looking healthy! We attended the Spring Racing Carnival, sipped sparkling water throughout wedding season and juggled the boys countless school, kindergarten and extra curricular commitments. Before we knew it the ideal 'babymoon window' had passed and we found ourselves well into the 3rd trimester covered in tinsel. The idea of travelling over the festive season didn't sit well with the boys "what if Santa can't find us mama?"... or the grandparents for that matter "so you want to take our only grandkids away over Christmas?!" Enough said.

So ....on January 6, at 33 weeks cooked and armed with a 'permission to fly' letter from my obstetrician, we jetted off to Noosa...our last plane trip as a family of five *insert sob*
note: most airlines allow pregnant women up to 36 weeks to fly up to 4 hours. It's also a requirement that pregnant women from their 28th week carry a letter from their obs or midwife stating their EDD, overall health and whether they are deemed 'fit to fly.'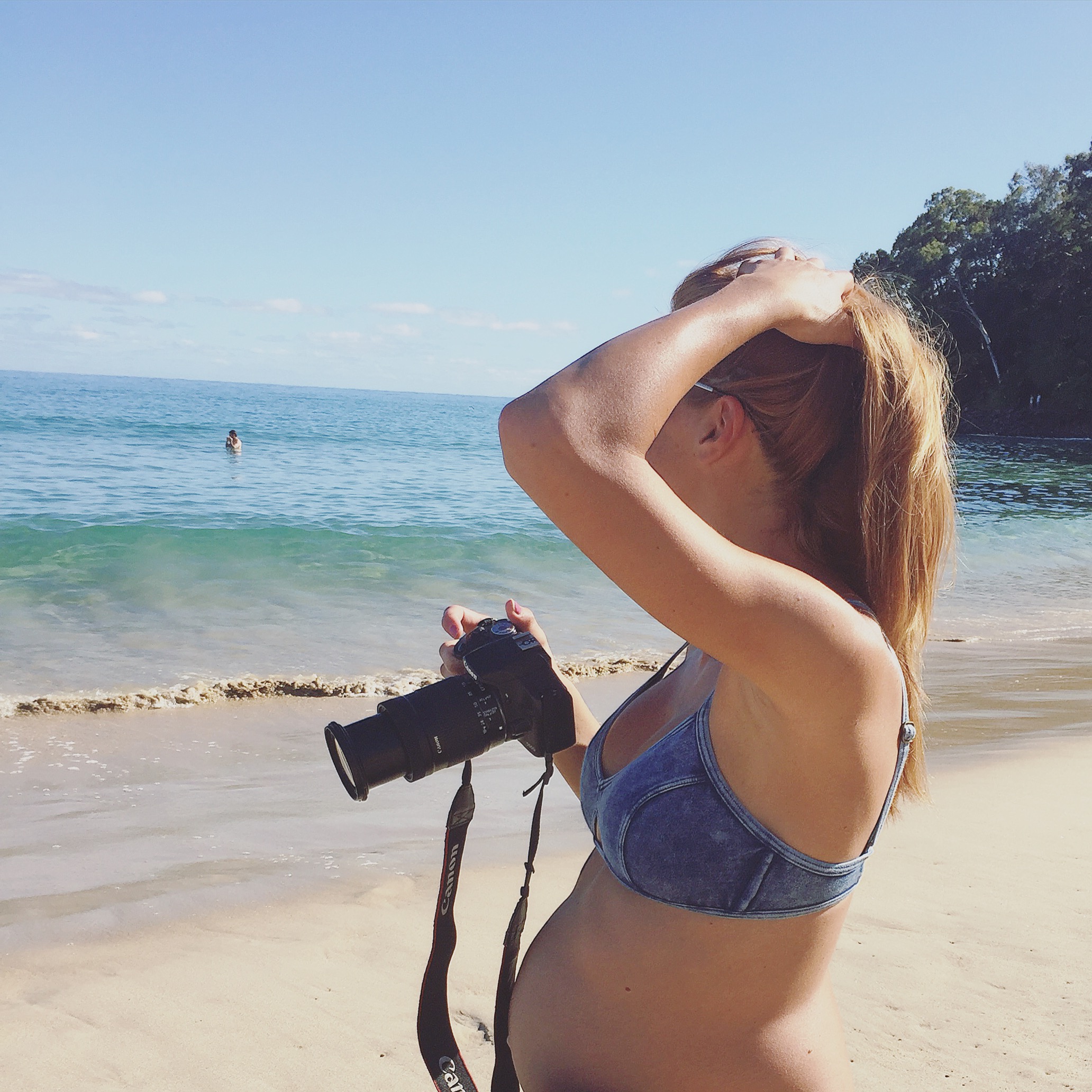 NOOSA ACCOMMODATION
We spent the first 4 nights of our babymoon in a self contained, 2 bedroom apartment at Mantra French Quarters Resort. The rooms were neat, spacious enough for a family of 5 (even with Tomasi's roll-in bed) and had all the amenities you'd expect from a family resort. The lagoon pool was the highlight of the trip for the boys, in fact we struggled to drag them away from the pool to head to the beach! Thankfully Massimo's gelateria was directly across the road - it proved to be just enough incentive to leave the resort without tears.
Ocean Breeze Resort was our next stop. We were very comfortable in a Deluxe two bedroom apartment on the ground floor. Modern furnishings, use of beach equipment and tennis courts were a big plus. The resort itself lies between Noosa Drive and Hastings St, providing fantastic access to the surf club, beach, restaurants, boutiques and 7eleven store (for late night snacks or baby wipes!) The resort pools are on the smaller side, however given our boys are novice swimmers, I quite liked the fact that wading pool (0.6m) and heated Pool (1.00m) were shallow and in full view from the reclining sun lounges.
So what did we do over the 9 days? To be completely honest, not a lot other than swim and eat! Schedules, diets and bedtimes went out the window, sleep-ins were attempted - although the 5am sunrise wasn't a great enabler!
One attraction we did visit whilst on the Sunshine Coast was Australia Zoo aka "Home of The Crocodile Hunter." Growing up tomboy, I was a HUGE Steve Irwin fan and have been captivated by crocs as far back as I can remember. We hired a car, the boys insisted on a Jeep (well played "I bought a Jeep" campaign team) and drove 55 minutes to the largest wildlife conservation facility in the world. There we were treated to a performance by Bindi Irwin (her first since winning Dancing With the Stars America) and watched younger brother Robert feed Crocs in the Crocosuem.
CHILD FRIENDLY DINING
Bistro C - beachfront, modern Australian cuisine. Kids were hooked on the vanilla pancakes and super smoothies. Extremely family friendly, had a highchair at the ready as soon as they spotted Tomasi, provided colouring activities and kindly offered to divide smoothies into smaller cups for smaller hands - nothing was too much trouble.
Sails - sophisticated yet understated dining. Impressive wine list (for those not growing a child!) Uninterrupted ocean views, must book in advance for the popular deck seating. Meals a little pricey but delish!

Locale - authentic Italian cuisine that would please even the harshest food critic - my Sicilian Nonna. Our boys dined on pork and veal meatballs with rigatoni, mini aranacini (from the Cicchetti menu) and woodfire pizze.

Betty's Burgers - juicy patties, delicious buns, tangy onion rings and crunchy fries. Boys were crazy about the $7.00 Angus beef kids burgers, ideal for a quick feed ... that is if you can time your arrival before the crazy queues (lunch at 11am, dinner at 5pm to be safe!)

Sushi Train - Mainly for the novelty! Torture for a pregnant woman, but Tomasi's eyes were glued on that mini steam train - so much so that he didn't even realise he was eating a healthy meal! #winning (note: tucked away behind the Mexican cafe on Noosa Drive)

Cafe Le Monde - Coffee Cart: Coffee fit for a Melburnian. Worth the $4.50 for a Regular (double shot) latte. Operating out the front of Cafe Le Monde, roughly 6am to 11am daily.

Massimo's - Real gelati from Italy to Noosa. Lines can be long during peak periods (evenings are insane!), however Toblerone and Tiramisu are well worth the wait.
packing lIte
When packing for a family of five, every kilo counts! We recently updated our luggage and went with the stylish Samsonite COSMOLITE for reasons beyond its sleek appearance.
These revolutionary cases are super light, I'm talking less than 2kg for the cabin size (51cm) and 3.1kg for the largest (81cm) Spinner. It's unheard of! And as their name suggest, the 'Spinners' feature 360 degree multidirectional spinner wheels for easy maneuverability. Ideal for independent toddlers who insist on steering their own luggage!
Children of the Tribe boho inspired unisex threads oozing cool.
Byron Bay roots, fits into the Noosa landscape perfectly. Vintage washed tanks and patterned overalls were my 'go-to' items for comfort at the beach.
Sudo - Without hesitation, every season we invest in SWIM X SUDO board shorts.
Fabulous quality (do not fade in saltwater or chlorine) and edgy designs are second to none. Denim shorts, patterned shirts and graphic tee's from their SS15 collection were also on high rotation.
To SHOP our style, click on image
Noosa Babymoon 2016,
thanks for the memories
C x